Home
Monday, March 2, 2015


Please browse this site, where
you will find a variety of downloadable
card making sheets for all of your
cardmaking requirements, which can
be printed time and again. Whether you
sell your cards or just make them for
family and friends you are sure to find
something that suits. After paypal have
verified payment you will be taken to a
download link. If you have any problems
please let me know. There is no minimum
order charge so it makes it very affordable.
Thankyou.


Users Online: 1

Get Twitter Buttons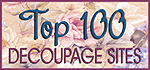 ---